Douglas Adams: The First and Last Tapes
By Ian Shircore
Almost 28 years ago, a young (27) and still overdrawn Douglas Adams was poised on the brink of fame. The first radio series of The Hitchhiker's Guide to the Galaxy had been released ("Escaped," was more the word, according to Douglas) and largely ignored in a late night slot on BBC Radio 4. It had then been repeated at a less perverse time, gathering listeners and momentum as the six episodes unfolded. But the books, the second radio series, the TV show and the long, long-delayed movie version were still to come.

Douglas Adams had done a handful of short interview pieces, most of which had just pinched his jokes and ignored his opinions. But when freelance reporter Ian Shircore got the chance to spend several hours with him under cover of an unlikely feature for Penthouse magazine, Adams found himself with half a day to ruminate, pontificate and smoke too many cigarettes in the cluttered office where he was earning a crust as script editor for the Tom Baker-era Dr Who. Apart from the few column inches Penthouse was able to accommodate, these tapes, from 1979, have lain unpublished ever since. They are being released now, in three parts, to mark the first issue of Darker Matter, the online magazine that brings you the best new SF short stories from around the world.
---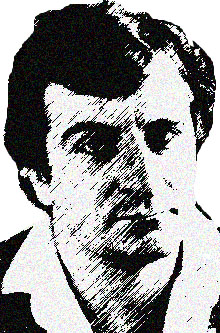 Thirty years on from its creation, The Hitchhiker's Guide to the Galaxy is still among the best known science fiction writing in the English language. Look at the ratings – still there, way up among the Amazon bestsellers in both SF and comedy lists, and right there alongside upstart Booker Prizewinners and other ephemeral froth in the literary rankings. Yet if Douglas Adams was destined to become the 20th century's greatest popular SF writer, it wasn't clear to him in the early days. He wasn't even sure if he was keen on the genre. When asked if he liked science fiction, he'd give one of his typically thoughtful answers:

"Well, yes and no. I like the aspects of it which turn the telescope round, by letting you stand so far outside things and see them from a totally different perspective. That's what I try to do in Hitchhiker's, and that's what I think the best science fiction does. Science fiction that's just about people wandering around in space ships shooting each other with ray guns is very dull. I like it when it enables you to do fairly radical reinterpretations of human experience, just to show all the different interpretations that can be put on apparently fairly simple and commonplace events. That I find fun."
So who did he read with relish, in these formative, creative years? And what made an author special for him? He could almost have been describing his own work as he paid his spontaneous tribute to the effortless, fertile genius of Kurt Vonnegut.
"Tom Stoppard. Otherwise, Tolstoy I love. Solzhenitsyn. Kurt Vonnegut, who I think is absolutely superb. I've read The Sirens of Titan six times now, and it gets better every time. He is an influence, I must own up. Sirens of Titan is just one of those books – you read it through the first time and you think it's very loosely, casually written. You think the fact that everything suddenly makes such good sense at the end is almost accidental. And then you read it a few more times, simultaneously finding out more about writing yourself, and you realise what an absolute tour de force it was, making something as beautifully honed as that appear so casual."
"The SF writers I like best are the ones who are funny, and there are not many of them." And the others, the usual suspects? Did he read Asimov, Arthur C Clarke and the rest?

"I have done. The SF writers I like best are the ones who are funny, and there are not many of them. Robert Sheckley. He's a very, very funny writer. He's also a stylist. Very few science fiction writers write English well. Robert Sheckley can.
"So Sheckley... and another guy I'm very fond of is Stanislav Lem, a Polish writer who has been superbly translated into English. That's doubly impressive because it's a very densely verbal style, with lots of word play. Translating it into English must have been extraordinarily difficult, and in many cases it's been very well done."
Douglas had spent some time after university trying to sell the idea of science fiction comedy. People were happy enough to talk to him, as he had obvious potential as a comic writer and had established useful connections with various members of the Monty Python team. He even found himself writing with Graham Chapman for a period of 18 months or so, mainly on a bunch of projects that failed to see the light of day. But life was not without its frustrations.
"When I was working with Graham, a key figure in the Python team, I thought 'This is the Big Break.' But it turned out not to be. And I kept trying to sell the idea of a science fiction comedy, but no-one was interested. You could go along to a comedy producer and say 'This is science fiction' and he'd say 'This is drama – take it to a drama producer.' So you'd take it to a drama producer and he'd say 'Take it to a comedy producer.' Then Graham Chapman and I were commissioned by [Beatles drummer] Ringo Starr, of all people, to write a one-hour US TV special for him. That was SF comedy. But it never got made in the end, which was a shame, because there was some nice stuff in there."
Then came the Big Break, Mk 2. The Robert Stigwood Organisation, which had had huge hits with Grease and Saturday Night Fever, commissioned a film treatment from Chapman and Adams.
"It was another film idea based on science fiction. But they eventually stopped that project because, as they said, 'We don't think there's a market for science fiction films.' As it turned out, that was about 12 months before Star Wars." "I'd finally given up on the idea of science fiction comedy, simply because no-one was interested."

In the end, after Douglas had spent a few nervous weeks working as a bodyguard for rich Arabs staying in Mayfair hotels ("You had to open doors and wear a suit and if anyone came with a gun or grenade, you'd run away"), he got the chance to write a single sketch for an obscure radio comedy show, The Burkiss Way. It went well, and the producer, Simon Brett, asked if he had any ideas for a series.
"I'd finally given up on the idea of science fiction comedy, simply because no-one was interested. But then Simon Brett suggested the idea to me. 'I'd like to do an SF comedy, and I think you might be the guy to do it.' And I sort of fell out of my chair."
The Red Sea had parted, and Douglas had the opportunity he had been waiting for.
"It was a couple of days after that that the title came. I had quite a lot of separate plots in my mind, each of which involved the end of the world, so we thought we were going to do six independent half hour stories, each ending with the end of the world. The thing was going to be called The Ends of the Earth, or something. Then I suddenly remembered what had struck me six years previously – but I hadn't done anything about it and hadn't even remembered in the intervening time – which was when I had been hitchhiking around Europe, when I was a student or just before I went up to Cambridge, I had this book called The Hitchhiker's Guide to Europe. And I remember wandering into a campsite in Innsbruck late one night, being not entirely sober, and the stars were all out and I just remember thinking at that time 'Somebody should write a hitchhiker's guide to the galaxy.'
"But being congenitally unable to see a good idea when it was staring me in the face, I didn't do anything about it for another six years. Anyway, then I did a treatment, describing what the show was going to be about, and it took a while for that to go through the [BBC] system. By this stage, I'd gone back and lived at home with my parents in Dorset. And then the BBC came back and said 'OK, write a first episode.' So I wrote a first episode, and that also took a while to go through, and then they came back and said 'Yes, OK. Go ahead and make it.'"

Click to hear a short segment of this interview. There was no practice round. That first episode was the actual first episode, complete with bulldozers, Vogons, Ford Prefect, "Lucky escape for Arsenal", and, of course, the end of the Earth. The reaction was, for a surprisingly long time, silence.

"We made it, and then that more or less coincided with the summer period at the BBC, where, in order for anything to get approved, you have to wait for people to come back from whichever beach they're lying on. So that took a long time. While I was kicking my heels, I sent in my pilot episode to the then script editor of Doctor Who, Robert Holmes, who said 'Yes, yes. Like this. Come round and see us.' So we discussed ideas for a bit, and I eventually got commissioned to write four Dr Who episodes. It took a long time to reach that decision, and then, after all this period of nothing happening, I was suddenly commissioned to write four Dr Whos and the next five Hitchhikers all at once."
---
Next month:
The young Douglas Adams on comedy, money and turning radio into books into telly into films and who knows what. Plus why Dr Who left Douglas disappointed and where the science fits into science fiction.

Read Part 2 now | Read Part 3 now

Interview Copyright © 1979, 2007 by Ian Shircore. All rights reserved.

---
---
About the interviewer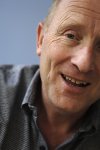 Ian Shircore's career went into precipitous decline after this interview, as he travelled round the world, working in exotic places for The Australian and the South China Morning Post, and ended up as Head of Marketing for an artificial intelligence software company in Cambridge. He has written seven books, on English grammar, management psychology and Internet topics, most of them characterised by appalling timing. They include the somewhat premature Mastering the Internet (1998) and The Complete Idiot's Guide to Online Shopping (2001, the year of the dotcom crash).
You can buy Douglas Adams' books from Amazon.co.uk
or from Amazon.com
---
Discuss this interview on the Darker Matter Forums
| | |
| --- | --- |
| Now why not head over to our forums to discuss this interview with other Darker Matter readers. Or vote for it, in the poll over on the right. There are other discussion boards on the Darker Matter Forums as well, so it's well worth checking them out. | |
Home
|
FAQ
|
Forums
|
Submissions
|
Privacy
|
Contact
|
Donations
---