Editorial
By Ben Coppin
Welcome to the first issue of Darker Matter.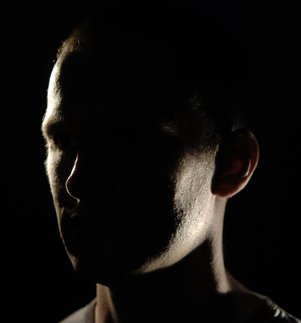 In this issue, we have three short stories, a short-short story and a novelette. We also have an exclusive interview with Douglas Adams, author of The Hitchhiker's Guide to the Galaxy. This long and revealing interview was recorded by Ian Shircore in 1979, when Adams was on the brink of fame, and the tapes then went missing for 28 years. Now they have been rediscovered, the interview is being published here in three parts, over the next three months.
Darker Matter is free to all readers and is funded by advertising and donations. Its focus is on publishing high-quality original science fiction short stories from around the world.
The first short story this month is by 2006 Hugo Award winner David D. Levine. Babel Probe tells the story of a probe from our future that travels back to the building of the Tower of Babel to discover what really happened.
Ken Brady's Tagging extrapolates from today's branding and street art trends to an all-too-plausible future where entire species are co-opted for marketing campaigns.
The third short story, Lightning War, by Duncan Long, is an inventive, somewhat disturbing tale of a completely alien form of war.
Edward M. Lerner has provided a short-short story, RSVP, that's so brief and laconic that it really has to be left to speak for itself.
Finally, there's Frost, a new novelette by Bud Sparhawk. This is certainly the darkest story in the issue, and makes particularly sinister use of the idea of memories of Christmas.
In addition, there's a science fact article on exoplanets by I. E. Lester.
Each story has a poll, so you can give it your personal rating. Please do vote, as it will help to ensure we maintain a high quality of stories in the future. You can also go to the Darker Matter forums to discuss the stories, the interview or science fiction in general, and compare notes with other DM readers. Ultimately, we hope Darker Matter will become the place you go for anything to do with science fiction.
Thank you for visiting, and I hope you enjoy the first issue of the magazine. Feel free to get in touch and let me know what you think - through the contact form, by voting in the polls, or by commenting in the forum.
Editorial Copyright © 2007 by Ben Coppin.

---
Home
|
FAQ
|
Forums
|
Submissions
|
Privacy
|
Contact
|
Donations
---